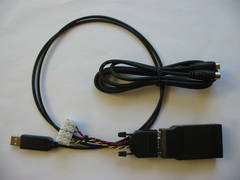 FC-HAKO is a cost-effective hardware interface for the Apexi Power FC computer, for advance tuning on a PC using compatible tuning software.

FC-HAKO features:
• automatic PC software detection, for Apexi official and third-party tuning software.
• automatic Power FC type detection, for legacy and universal interface.
• two differential analog inputs (AN1-AN2, and AN3-AN4) for wideband O2 tuning.
• firmware upgradable to resolve issues.
• works on Windows 10 & 7 & XP, 32bit and 64bit systems.

FC-HAKO has been tested and confirmed to work on:
• Toyota Supra (JZA70 & JZA80), Toyota Chaser (JZX100) manual and auto.
• Toyota Celica & MR-S, Toyota MR2 (SW20).
• Nissan Skyline R34 GTT & R33 GTS-T.
• Nissan Skyline R32 & R33 GTR. (including D-Jetro)
• Nissan Silvia S13 (SR20DET2) & S15 (SR20DET5).
• Mitsubishi EVO.
• Subaru WRX.
• Toyota Starlet (EP82).
• Mazda RX7.

FC-HAKO is the perfect solution if you want to:
• check out the maps as altered by your tuner.
• make a backup of your maps and compare them with another tune.
• perform logging and log processing, then tweak and refine your tune.
• shift the ignition table by 1 or 2 degrees for lower or higher octane fuel.

So if you meet any of the above, then FC-HAKO is for you.

So why are you waiting, ORDER YOURS TODAY!